The Influence From Music To Nike SB's
We see that the music industry is becoming increasingly important how sneakers are released these days. In the past, it was the athletes who promoted the sneakers, but since the sneakers are worn more for fashion instead as a performing shoe, artists are more and more used to promote the sneakers these days. Since re-emergence of the nike sb we see all lot of that the interest has grown enormously towards new and old SB's. How 2 years ago SB dunks were not moving in 2nd Culture is nowadays one of our fast selling items. We believe because of the heavy influence from those artists some of those dunks going resell prices to the roof see at such Nike SB Dunk low white/black trail end brown hyped up as would be the 'inspiration' for the Jordan 1 x Travis. But hype or not it's good to see the rising interest of Nike SB's. What is cool to see is that each SB gets its own identity and story telling to get to know. Here we have selected a few sb dunks that are inspired by different influences from the music world.
1. Nike Dunk HI Wu-Tang 
a highly sought after dunk is the Nike dunk wu-tang came up Back in the late '90s, Nike re-released its original "Be True" Dunk collection, with a special reworked goldenrod colorway for the University of Iowa, which was turned into the famed "Wu-Tang" Dunks. It's estimated that only 36 pairs of the sneakers were produced, making it almost impossible to find a pair except for Nike signed  travis scott seen on his instagram. Since 1999, the "Wu-Tang'' Dunks have popped up once a while,  generally going for as much five figures.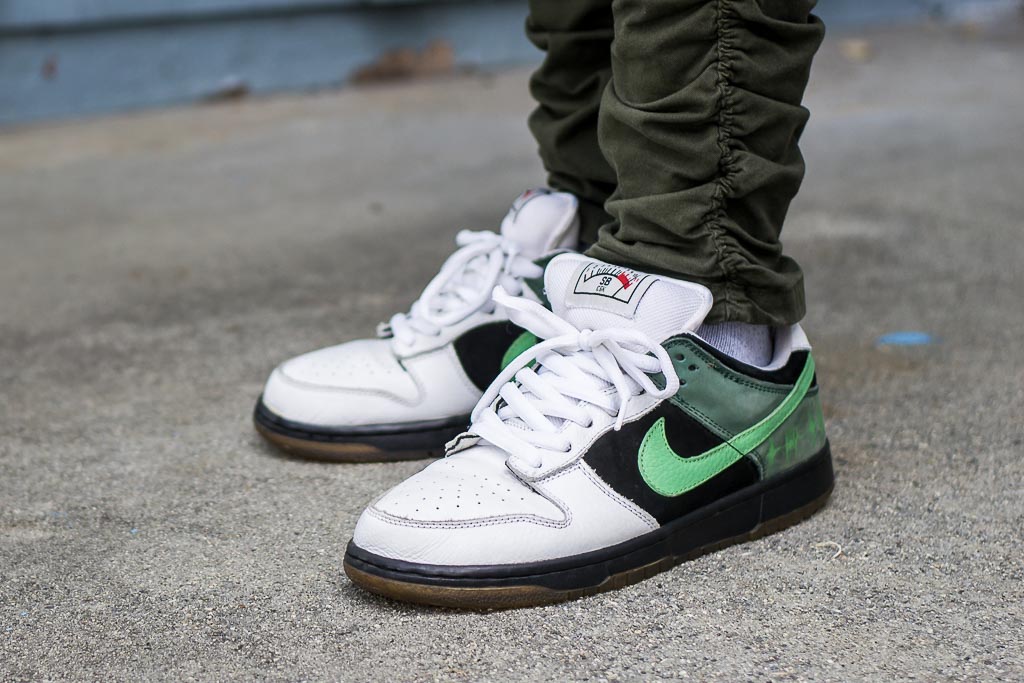 2. Nike SB Dunk Low C&K
Known to many sneaker collectors as the Nike Sb Dunk C&K, the C-mon and Kypski gets its inspiration from two DJs stationed in the Netherlands (Utrecht). Before it's release many fakes were produced and were trying to be sold on eBay like many of the newer releases these days. The Nike Dunk SB C-mon and Kypski is definitely a clean colourway with dope details, the green,black and white color-way is simply flush and the icy sole tops it all off. released in July of 2007(retailed for $65) but only in Europe which makes quite high priced now. 
3. Nike SB Dunk x Travis Scott 
Travis Scott
continues to impact pop culture in more ways than just through his primary occupation as a recording artist. The chief of the Cactus Jack label has made insurmountable waves within the fashion space from his highly-acclaimed sneaker collaboration. With high heat collabs like his Air Jordan 1 and Air Force 1 that made their way to our collections last year, there's no stopping Travis Scott, and it doesn't look like he's taking a break anytime soon with his fourth collab the Travis Scott x Nike SB Dunk Low Cactus Jack. First spotted in his music video for JACKBOYS,Painted in a tan and navy colour scheme, the first thing that you'll notice about this Dunk is the tear away bandana pattern that makes its way across the entire upper. 
4. Nike SB Gibson
January 2008 these Dunk Low SB with inspiration from the classic brown Gibson Guitar case with pink fur lining. The pink lining will be barely noticeable when worn with jeans or pants tho, pink shows up as contrast stitching on the swoosh. The slightly translucent midsole is also cool along with the premium brown leather upper. 
5. Nike SB Dr.Feelgood
Mötley Crüe's 1989 album Dr Feelgood is the band's greatest album, Nike SB pays tribute to the album with the "Dr Feelgood" Dunk High SB. This colorway is inspired by the cover art of the album just like the Guns & Roses Dunk Low SB. Most of the sneaker takes after the snake running to the middle of the cover while the red is from the Mötley Crüe logo.